Tanisha love to go without panties
Tanisha, is a hot and foxy black girl, who prefers to not wear panties under her dress. She likes to keep her kitty cool, and by not having panties on she stays cooler.
It was early spring, as Tanisha went off to class. Little did she know that day, that there would be some older guys working in the underground tunnels, which have an open grate on them. And since those tunnels have an air draft the blows up out of the grate, it tends to blow open the skirts and dresses on the woman.
As Tanisha was walk over the grate on her way back to her place, the guy were watching for girls without panties, as it was their lunch break. They were ready with camera in hand to take pictures of any one the hot girls without panties. She was just one of the girls that they got pictures of that day.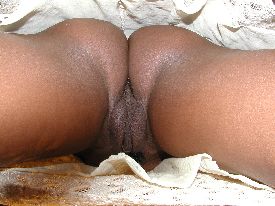 Tanisha heard the guys below her, and that just made her hornier and wetter. She does like to show off the kitty at times, but she is very selective whom she shows her kitty to. But the thought of the strange guys down there just did something for her today. With that she hurried back to her place so she could masturbate. She got out her favorite dildo and started masturbating. It wasn't long until she came, and her eyes rolled up as she moaned in ecstasy.

Date: 2011-01-19
Sara takes a bubble bath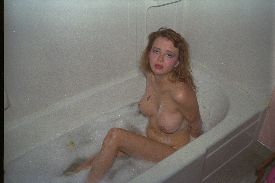 I was sitting in the bathtub when Linda came home.
Linda shouted, "Sara! Sara! Are you home?"
I screamed back, "Yes, I am in the bathtub." I went back to enjoying my bubble bath, and as it was getting a bit cold I turned on the hot water to add more water to the tub. Since I was running the water, I didn't hear Linda open the bathroom door and come in.
Once, I turned the water off, Linda said, "Damn you have a sexy fucking body." I asked her "Would you like to join me in a bubble bath?" I moved to make room for her, to which she smiled, and started to take her cloths off. She pulled off her mini shirt and her top, leaving her in a black lace thong, and a bra. I could feel myself getting more and more excited with her standing there, as she unhooked her bra, and removed her thong.
Linda then stepped into the tub with me, and sat down opposite of me. I could feel her foot rub against my leg as she smiled and stared at me to see how I would react. She was admiring my big breasts, as she started to rub my leg with her hand as well.
I was going to just use the dildo that I had in the tub on myself. Linda had not seen it as the bubbles had hidden from sight. But since it was apparent she wanted me, I decided we could use the dildo on each other. Linda pulled me towards her, and gave me long passionate kiss, with tongue. As she did my nipples got hard, and I reached up with my hand to caress her breasts. I could feel her nipples getting hard as I caressed them.
Linda then put one hand on my shaven pussy and started to massage my clit. It was then that I surprised her by pulling the dildo out of the water, and showing her my toy. She said "Please put that dildo in my pussy and make me come!" I was happy to do this for her. She kept massaging my clit, as I put the head of the dildo against her pussy and slowly pushed it into her. She moaned as it slid into her.
Linda said, "Fuck me, fuck me hard with that dildo of yours! I want to feel it in me all the way." I pushed the dildo in and out of her faster and faster, until she let out a scream that she was coming.
I removed the dildo from her pussy, and said "It is your turn to use it on me." To which she was happy to oblige me on that. It was long before I was coming as well from the dildo being in my pussy.
She got out of the tub, and dried off and left leaving me in the tub wondering what will happen next.
Date: 2010-10-29
Trish Love to wear short dresses without panties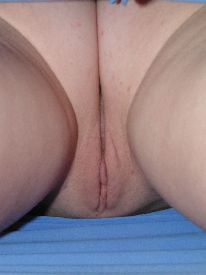 Trish prefers to not wear panties under her dresses. That way she can show off her nice juice pussy to guys easier. She can spread her legs apart, and they can get a good view of it.
Today Trish decided to take the bus into town and get a vibrator to come home and play with. On the bus, she sat back a few rows from some guys, and sat close to edge. And with her looks she turns heads, and all of the guys watched as she got on, and took her seat.
As she sat there she spread her legs apart so the guys could look back and enjoy the view. It wasn't long until a couple of them looked back to check her out again. Trish could tell by the smile on their faces that they could see her nice juicy pussy. This of course always made her wetter, and hornier.
Trish got to her stop and got off, and went in the store to get a vibrator to take home and play with. She picked out a nice vibrator to take home to play with.
Trish got home, and was dripping wet from showing herself out to the guys in the bus. She was so wet she didn't need to add any lubricant to the vibrator before she started play. She turned the vibrator on, and put it in her juicy wet pussy. She dreamed about having one of the guys on the bus in her wet pussy. And it wasn't long before she had a big orgasm from the vibrator in her pussy.
Trish hopes to go out tomorrow and show off her pussy while having lunch.
Date: 2010-10-15